The Stage Has Been Set
The lights are on and the line-up for the Red Dog Music stage have been finalised!
This year's line-up is looking to be one of the best yet:
Eliza Carthy
.
Multiple award-winning artist Eliza Carthy is one of the UK's best names in folk music with a 25-year career,
several best selling albums and an MBE under her belt.
We're incredibly grateful and honoured to have her perform at the Meadows Festival
Sea Bass Kid

Sea Bass Kid are a multi-cultural eight piece band from Edinburgh who play an infectious mix of dancing styles, Skariachi and Spaghetti Eastern! Prepare yourself for what will guarantee you to have a proper wee boogie in the Meadows
Urvanovic

A seven-piece variety bucket of strings, synths, percussion and other noises, Urvanovic play catchy pop with a mixture of sweet and harsh sounds and intertwined vocals.
The Mermaids
The Mermaids are two song-writing sisters from rural Galloway who focus on close vocal harmony, accompanied by guitar and ukulele. In their short career of two years they've had the privilege of touring up and down the UK. Performing at such venues as The Royal Albert Hall and The Clyde Auditorium, supporting Jools Holland, Joss Stone and many others. With one album under their belt, 'In A Day', The Mermaids are currently recording more material to be released later in the year.
Miracle Glass Company

Featuring some of Edinburgh's best known musicians, and with a repertoire stretching from supernaturally beautiful songs to seismic mind bending jams, Miracle Glass Company represent all that's good about cosmic rock n' roll.
Monosapiens

Formed 14 years ago in Edinburgh, Monosapiens use samples, rapping, and live instruments to perform a heady blend of hip hop, jazz, and funk that's guaranteed to move you.
Big Fat Panda

Big Fat Panda are one of Edinburgh's favourite and most long-standing ska bands offering a mixture of original songs and covers inspired by a range of Jamaican musical styles and all displaying a profound knowledge of what causes a serious knees-up on the dance floor.
Danny Mullins Band
Well known from the Edinburgh gigging circuit, Danny's songs combine a love of folk and a love of reggae with quirky lyrics about the places he has been and causes close to his heart. Backed by a full band, Danny's Meadows Festival performance promises to be a rousing and foot-stomping occasion.
Matatunes

The Matatunes were formed in Edinburgh in 2012 when a motley crew of Iberian émigrés got together with a simple ethos: make a lot of noise and have a good time. After a year of hardcore gigging around the capital, the first few rough demos were recorded. European gigs and festivals followed and now The Matatunes are recording their debut album, set for release this summer, along with a string of gigs to promote it. With a very diverse spectrum of musical backgrounds, the band's sound is an original raucous dancey ska/rock with punk energy and attitude.
Portnawak and the Woo
Using exclusively acoustic instruments including fiddle, harmonium and shamanic frame drum, Portnawak & The Woo are a musical ensemble playing a unique blend of gypsy folk hop, psychedelic tribal bounce music and organic punk……with the added element of Woo!
Jemima Thewes
Jemima grew up in the Scottish highlands, an atmospheric landscape which continues to help provide the bones of her music. In 2013, she was struck with an illness which brought her to the brink of death and back again. Since then she has developed into a powerful and moving singer and performer.
Tinderbox Orchestra

Bringing together young people and professionals from around the city, the Tinderbox Project is a vibrant mix of orchestras, bands, artists, voices, colours and cultures.
The Meadows Festival Needs You!
Meadows Festival returns on 6th & 7th June 2015!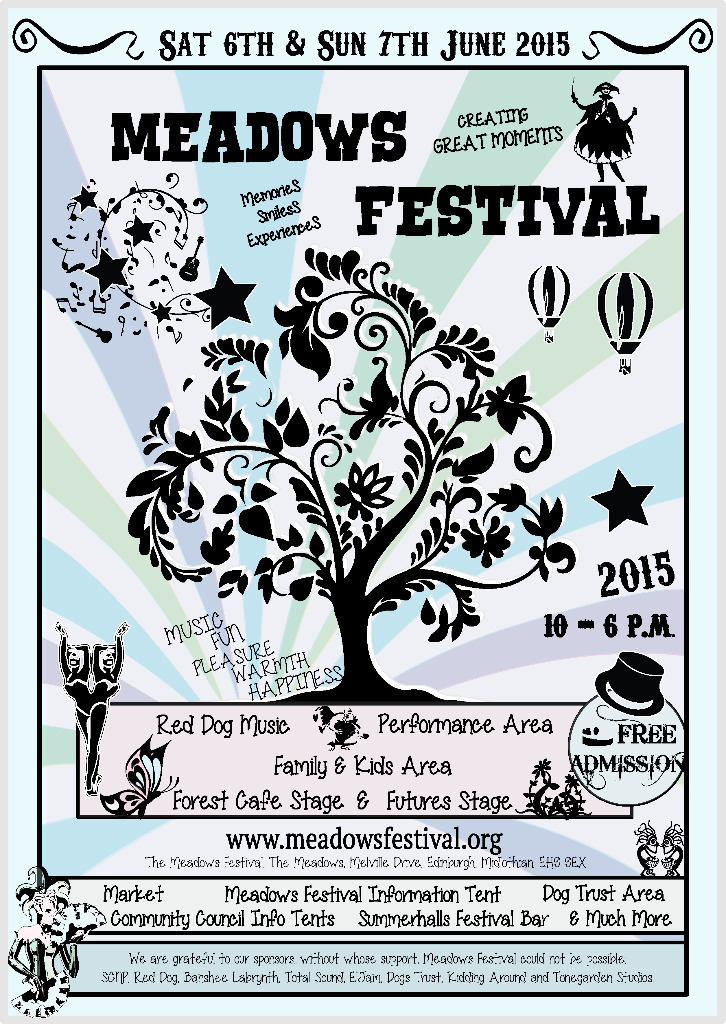 Volunteers are needed to help out from Friday 5th to Monday 8th. No special skills required, just a willingness to muck in and enjoy yourself at the same time! Join our small team of enthusiastic volunteers. Generally, we multiple things over the weekend so you'll never get bored! Some of the tasks carried out include…
Setting up tents, building security fencing and putting up signs before the festival
Giving out programmes and answering questions from the public
Fundraising
Helping to open up the tents in the morning, and close them down at night
General stewarding
Helping with the running of the Kids Tent or Festival Stage
Picking up litter
Moving things to where they are needed
Be part of the party and come to join us! You are welcome to come along just for part of the weekend, even if it's a couple of hours. To apply to be a volunteer at the festival, please complete the volunteer form on the Meadows Festival website. We'll get back to you with more info.
It's Nearly Festival Time
It's nearly that time of year again, just over a month to go before the festivities of the Meadows Festival return.
It's going to be a jam packed festival this year with the Red Dog Music Stage and Future Fortunes Sate showcasing Edinburgh's finest local acts – and some from a little further away. Along with the new addition of the Forest Stage putting on performances and live music throughout the weekend! We've overhauled the kids area this year to keep the little tykes even more entertained , hopefully the parents will enjoy it too. We've also got a jam packed performance area to give you a taster of everything from Yoga to bubble blowing.
This Year, the Lovely people at The Pickering's Gin & Cocktail Bar & The Royal Dick on the Meadows will be providing the adult libations, we're sure they'll have your tipple.
As ever, the stalls will be filled with curiosities, charities and everything in between. We still have a few slots left, so head over to the Book a Stall page, but hurry, they're going fast!
We'll be announcing the lineups for the festival soon, but in the meantime, keep an eye out for our swanky new posters around town!
As ever, we're all volunteers, so if you have a spare few hours on weekend of the festival we'd love to have the helping hands. If you'd like to help please check out The Volunteer Form.
Meadows Festival Association AGM: Tuesday 4th November 2014, 7:30pm, venue TBC
The Edinburgh Meadows Festival is a free volunteer-run annual event featuring live music, merchandise, stalls, kids' and adults' activities and loads more. The first Meadows Festival took place in 1974 and since then the Festival has been an annual feature of the calendar.
The 2015 festival will be open on Saturday 6th and Sunday 7th June.
The Festival Committee work hard throughout the year to put on the event, organising events including:
In 2013 over 20,000 people attended across the two days of the Festival, so it's a busy and fun-filled couple of days!
The Meadows Festival Association (Charity SCO17116) runs the Festival. The current committee took over the running of the event from 2008 onwards, taking over from the previous organisers.
It costs approximately £20,000 to put on each years Festival and we are always open for donations, sponsorship etc. If you think you can help, please make a donation or, for companies, visit our sponsorship page. It is only through the generosity of the community that the event can go ahead, so please dig deep!
Huge thanks to the South Central Neighbourhood Partnership who have once again provided significant funding which enables the festival to happen.
We are also looking for volunteers to help with the set-up and over the weekend. Click here for more information.
Please note that some of the items listed may change due to unforeseen circumstances, and the Meadows Festival Association does not guarantee attendance of any stall-holder or other third parties. Children and vulnerable adults are the responsibility of a parent or carer at all times.